We have seven older trained puppy Goldendoodle girls available for adoption. They were born in January of 2022. A few of them are listed below. The best thing to do if you're interested in adopting a puppy that's had a significant head start is to please reach out and either give me a call or leave me an email with your phone number and I will call you. I know these puppies very well. After listening to you tell me about your family and day to day I can make a recommendation on which puppy will be the best match. This is an incredible opportunity for those wanting a Goldendoodle, but not wanting to start from the very early stages of puppy hood.
Meet Cuddles!
Her adult size is estimate to be about 45 pounds full grown. As her name suggests Cuddles is the ultimate cuddle bug. She would be a wonderful match for a lonely senior that wants a loving companion. Cuddles is shy and would do best with someone gentle and calm, like her! She is very devoted to her person. She is what I call an "old soul" puppy. Not that she doesn't play, but that she's much more mature for her age. She is deep, loving and intelligent. She wouldn't be a good match for a loud, fast paced demonstrative person or household. Her best life would be someone who's home a lot, who she can cuddle up with and talk to her. I'm not kidding you, when she looks into your eyes, (when she does, you'll know she trusts you,) it's like she's talking to you and reading your feelings. It's hard to describe this puppy's depth. She is a rare jewel. From an aesthetic standpoint, Cuddles is absolutely gorgeous. She has a stunningly beautiful big blocky face and a beautiful soft, thick coat. She sleeps eight hours in her own crate at night which has set her up with an excellent foundation for potty training. Cuddles was born January 24 2022.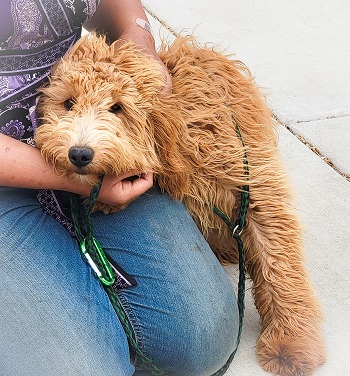 Meet Cherry!
Cherry is what I call a middle of the road puppy. She's a perfect medium in disposition, not a wild child, nor a quiet shy sort of puppy. We call her Cherry not only for her red color but also because cherry blossoms in the spring make us feel all happy inside, just like her! There's not a person she meets that doesn't walk away with a smile on their face, even if they were feeling sad before. She has a special way of driving the gloom away and would make a good therapy dog prospect. She brings a dose of sparkles and sunshine to all she meets! Cherry is intelligent and very willing to please. She does very well with her training sessions. She walks nicely on leash, sits politely when you stop walking, waiting for you to continue. Other things we work on are good house manners training, potty training and crate training. She sleeps eight hours in her crate at night. Cherry loves children, other animals and anyone she comes in contact with. She would be a good choice for a family that was adopting their first puppy or an experienced dog family alike. She's easy going and easy to live with, she is an all around amazing girl.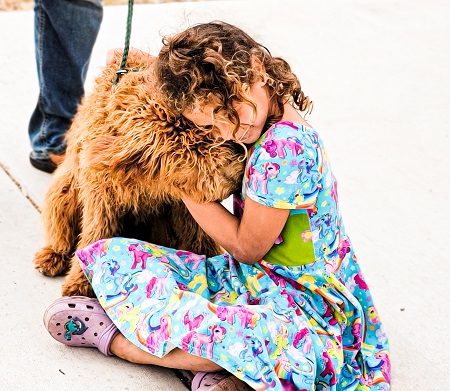 Meet Lady
Her adult size is estimate to be about 45 pounds full grown. Lady is sweet cuddle bug of a puppy. She is a very gentle puppy that loves to be by your side. Children are Lady's passion, I don't know that I've ever seen a puppy as adoring and patient with them as she is! She loves being included in their tea parties, water play, gardening or whatever else they dish up! She is extremely patient, loving and a wonderful friend. She is good with people of all ages and animals of all types. A friend to all she meets. Lady was born January 24 2022.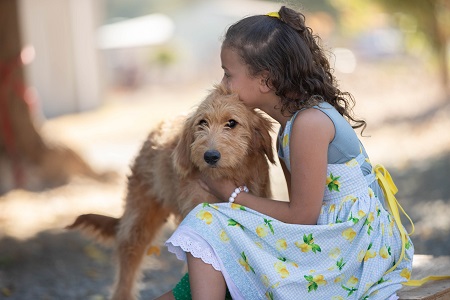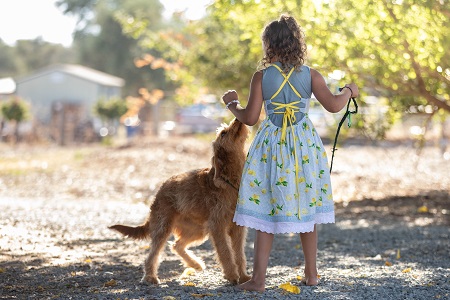 Meet Rosie
Her adult size is estimated to be about 45 pounds full grown. Rosie is a love of a puppy, she's every man, woman and child's best friend. Rosie is good with other animals, she has an easy going disposition and is very willing to please making her easy to train. If you're looking for a best furry friend, Rosie will be happy to devote her life to you. Rosie loves playing in the water but is just as happy relaxing by your side receiving a belly rub! You truly couldn't meet a sweeter girl. She was born January 24, 2022, so she's an older puppy that has been started on basic obedience and good house manners. Rosie sleeps eight hours in her crate at night which has set her up for an excellent foundation on potty training.